About Kéan Coffee
Kéan Coffee™ is the modern evolution of a long-time tradition by coffeehouse pioneer Martin Diedrich of providing the community with vibrant meeting places in which to enjoy the highest quality fresh roasted coffees on the planet. As original direct trade coffee roasters, we craft roast our carefully selected coffees from around the globe onsite daily, procured from small holder farmers many whom we have had longstanding personal relationships with since the 1970s. Roasting our coffees onsite daily means your coffee has often been roasted within hours of the moment it reaches your cup. Our expertly trained baristas craft your coffee beverages to the highest standards.
Martin, founder of the Diedrich Coffee chain, left behind the corporate environment his family business had become to return to his roots as an independent coffeehouse operator and micro roaster, and his ideals of what a coffeehouse and coffee culture should be. Martin together with wife Karen put a lifetime of creativity, inspiration and deep coffee experience into bringing Kean Coffee to life. Martin and Karen Diedrich aptly named this next generation of coffeehouse after their son, Kean.
In addition to our seasonally rotating selection of single origin coffees from every coffee growing region, Kéan Coffee also features an outstanding selection of organic loose-leaf hot and iced teas, as well as non-coffee beverages like single origin sipping chocolates, matcha, turmeric lattes, and other crowd favorites. Our pastries and savories are baked fresh daily by small local artisan bakeries, including scrumptious gluten-free and vegan options. Come and enjoy our warm, community atmosphere in the true coffeehouse tradition!
Our Founders
Martin Diedrich
Martin Diedrich grew up in Guatemala where his family owned a small coffee farm. In 1983, Martin left behind a career in Mayan archeology to help his parents with their small family coffee roastery in Costa Mesa, CA. During that year his vision emerged to create community meeting places where people could gather and enjoy his family's exquisite farm-direct coffees.
Martin founded the first Diedrich coffeehouse in Costa Mesa in 1984, which grew to nearly a dozen locations over the next decade. These original coffeehouses became iconic landmarks in the Orange County landscape. As the chain continued to grow, Martin was later recognized as one of the pioneers of the American coffeehouse phenomenon and an internationally recognized coffee expert. Martin was presented with the Specialty Coffee Association's Lifetime Achievement Award in 2005 - previously bestowed on only a handful of coffee luminaries including Starbucks founder Jerry Baldwin, Alfred Peet, George Howell, and Dr. Ernesto Illy.
In June of 2004 Martin resigned his position at Diedrich Coffee and began to manifest a new vision for a modern coffeehouse that would bring back the community spirit and deep coffee culture of his early coffeehouses, as well as modeling community and global responsibility and awareness. Borrowing the name of their only son, Martin and Karen Diedrich opened the doors of Kéan Coffee in Newport Beach, California in December of 2005, just a stone's throw from the first location where Martin had originally joined his parents Carl and Inga, Kéan Coffee quickly developed a loyal following of regulars- old and new. Through Kéan Coffee, the Diedrich family took coffeehouse culture to the next level.
Karen Diedrich
Karen Diedrich is a lifelong coffee lover and brings her own eclectic array of experience to Kéan Coffee™. In 1994 when Karen was doing public relations and coordinating entertainment and events for a local coffeehouse, she and Martin met at a coffee event.
Prior to that, Karen worked as a fashion designer in Los Angeles for four years before going on to complete her master's degree in Clinical Psychology, and soon parlayed her love of dance into a professional Middle Eastern dance career, performing and teaching for 20 years and counting. As an Italian immigrant who grew up with the traditional daily espresso, Karen is very much in her element as a coffeehouse operator.
The Diedrich Family Legacy
For Martin Diedrich, coffee has been part of the family for generations. The Diedrich family's coffee heritage began in 1916 when Grandmother Charlotte Diedrich inherited a coffee plantation in Costa Rica. Carl Diedrich, Martin's father, eventually followed in his mother's footsteps, and in the late 1940s learned the craft of coffee roasting while working for a roast master in the old city quarter of Naples, Italy. In the 1950s Carl married Inga, whose family had been coffee, tea, and cocoa merchants in Germany since the turn of the 19th century. Carl and Inga purchased a small coffee farm in the 1960s in the Antigua region of Guatemala, renowned as one of the world's greatest coffee growing regions. There, Martin and his brothers worked the farm and developed a love of coffee growing and a firsthand respect for the intense work of growing truly excellent coffee.
As coffee farm owners for much of the last century, the Diedrich family developed a deep, intuitive understanding of coffee and the profound impact of climate and geography. Through their own experimentation and others, they developed numerous techniques of growing, processing, and roasting to maximize coffee bean quality and flavor. This passionate connection to the coffee growing process was passed from Carl Diedrich to his son Martin.
The Diedrich family began California operations in 1972 by importing, roasting, and retailing coffee from their farm in Antigua, Guatemala. Carl was roasting his coffee on a roaster that he designed and built with his own hands. From 1972 to 1982, Carl would drive his 1962 VW microbus 3000 miles round trip from California through Mexico to Guatemala and back, 4-5 times a year. While in Guatemala, he managed the business of the farm and on each return trip he brought back a busload of 16 154-pound sacks of raw green coffee. Carl was a one-man, vertically integrated business.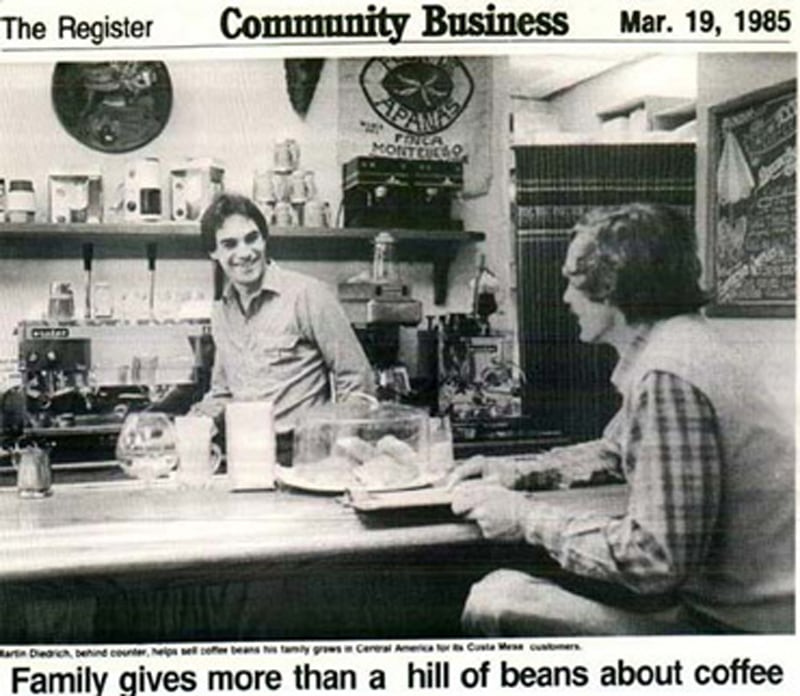 In 1982, during severe political and economic turmoil in Guatemala, the Diedrich family's coffee farm was seized. By this time Carl and his coffee roasting operation had already become a local favorite in Orange County. Martin began taking over the retail, roasting, and importing facets of the family business, and founded the first Diedrich Coffee neighborhood coffeehouse in 1984. Diedrich Coffee was a community gathering place where people could enjoy a great cup of coffee with friends and neighbors in an atmosphere that promoted coffee culture and a local vibe. These original coffeehouses were exciting, innovative and cozy. The phenomenal success of Diedrich Coffee prompted Martin to build more. By 1996 he reached over twelve locations in Orange County and San Diego. After the company went public, Diedrich Coffee bought several other coffee chains, bringing the company to hundreds of units and international status.
Martin's father Carl invented and hand-built his first coffee roaster in the 1960s on the Guatemala family farm, specifically designed to custom roast the very fine grade of coffee he was growing. Carl's philosophy of roasting was considered near heresy at the time but is now widely regarded as the best way to roast high quality coffees. Carl's original coffee roaster was the inspiration for Martin's brother Stephan Diedrich, who vastly improved Carl's original concept and founded Diedrich Manufacturing, building top notch coffee roasters. Today there are well over 2,500 Diedrich roasters operating in more than 50 countries worldwide.
The launch of Kean Coffee in 2005 continued the Diedrich family coffee legacy.
THE DIEDRICH FAMILY LEGACY
Sustainability
Kean Coffee was founded on the belief that businesses bear a responsibility to model practices and support causes that promote the greater well-being of our local and global community. Sustainability is a personal passion of ours.
We place high priority on managing our waste stream, recycling everything possible. We donate our spent coffee grounds and roaster chaff as soil amendment for gardens, and donate hundreds of burlap sacks monthly to individuals, schools, and local farms that give them a second life. We serve for here in ceramic dishware and offer takeout guests a .10 discount to bring their own cups and mugs. We encourage our guests to "skip the straw and lid". We offer organic milk, teas, and other items, and use organic ingredients whenever possible. We are always seeking ways to further our eco-conscious efforts and inspire others to do the same.
Our direct trade relationships and with many of our farmers enable us to witness firsthand the farming practices used to grow our coffees, and to engage in dialogue as they implement new coffee farming innovations and worker benefit programs. We pay sustainable prices for all coffees we purchase to support farmers ability to provide a fair livelihood for their workers.
Our sustainability activities go far beyond our coffeehouse doors. Martin has been a featured presenter at many Zero Waste conferences, environmental awareness symposiums and university events and has been an invited guest on decision-making panels to discuss affecting positive change on environmental policies. In 2007 Kéan Coffee was recognized as a "Zero Waste" business by Earth Resource Foundation, and in 2009 Kéan Coffee was named by the OC Metro as one of Orange County &Green 15 for its dedication to operating Kéan Coffee with a focus on sustainability.
We regularly support local and national conservation groups with coffee donations and grass roots advocacy. In these and other ways we affirm our deep dedication to practicing responsible stewardship of the health of our community and our environment.